Marketing models have changed a lot in the past 20 years, but the AIDA model is something that prevails both online and offline.
I've heard a lot of arguments from marketing professionals that a marketing funnel is now redundant when it comes to marketing a product or service because people are decision making on a more linear path. I've also heard people talk about 'how random' shopping habits are. But how can we assume? And more importantly how can use use the AIDA model to create a marketing strategy that works for your business?
Google says that people now consult up to 10 sources before they make a purchase and that purchasing behaviour is no longer linear. But maybe marketing funnels aren't dead. Maybe they have just changed in line with the world around us?
What is the AIDA model?
The AIDA model (a conversion or marketing funnel) is a process used in marketing to nurture leads or sales of a product or service through to conversion for a business. This often involves a 'hierarchy of effects model' that lead to nurturing leads through a customer journey, to eventually convince a customer or prospect to take action. on a product or service.
What does AIDA stand for?
AIDA stands for Attention, Interest, Desire and Action. There are multiple versions of this in existence now – but the core understanding is in line with potential customer behaviour.
The AIDA model focuses on one thing – getting your business product or service sales/conversions, whilst communicating your company proposition clearly.
Let's look into this hierarchy of effects a bit more below, and how you can apply it to your business.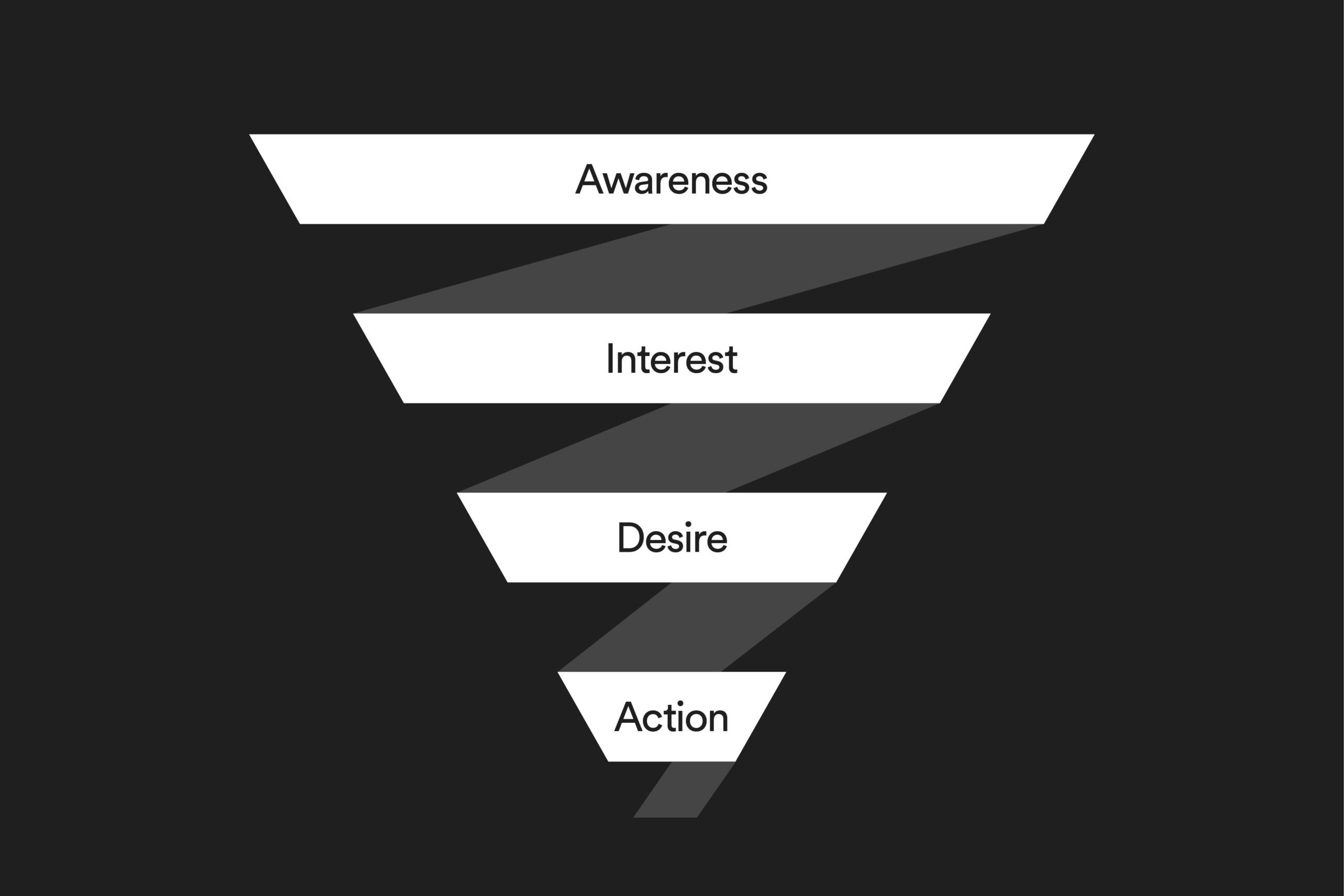 The AIDA (Awareness/Attention, interest, desire and action) Model in practice
This model and framework is designed to drive customers through different parts of the funnel (Awareness/Attention, Interest, Desire and Action) driving conversions so you can start to see the benefits of nurturing your lead generation strategy when it comes to your product or services. You can also use this for both online and offline marketing or a mixture of both to make sure you understand your full marketing funnel.
Action – Raising awareness of your brand to your potential audience and creating a 'buzz'. This is the most underrated part of a marketing funnel and a part that is usually heavily under-invested in. You need to attract attention to your brand here and begin the customer journey before you get people interested.
Interest – Once your potential customers know who you are, you can get them interested in what your product or service offering is. By raising awareness of your brand first, and your products second, you can gain more trust from your customers.
Desire – At this point, your potential customers should be aware of your brand and have an interest in your your product or service. So how do you persuade your customers to buy? The desire stage is best bit of the model to talk about USP's and the benefits of your product. Now is the time to sell why someone needs what you offer!
Action – Now you have gained customer interest in your brand, product or service and its benefits, we need to convince them to take action and purchase. This helps drive conversion and can be optimised further by creating a straight forward and distraction-free purchase process.
Simply speaking, this is how the hierarchy of effects of AIDA can benefit your business. But these models are just a guide. And models can't make a huge difference to your business unless they are applied correctly. Read on to learn how to apply the stages of AIDA (Awareness/Attention, interest, desire and action) to your marketing channels.
How does the AIDA model work with Digital Marketing?
There is no point knowing about the AIDA model if you don't use it! Applying it to your Digital Marketing Strategy is the next step to reaching consumers . Whether your strategy is focussed on SEO, Paid Media, Social Media, Content or Digital PR – we're going to talk you through how to apply this strategy to some of the specialities!
SEO & Content