Content builds confidence amongst your target audience. It helps build brand awareness. It also drives traffic to your website.
But the benefits of content marketing aren't limited to getting you in front of prospects and generating revenue. Other benefits cannot be measured in terms of monetary benefits. But they can be measured in how they solve problems and provide context to your sales collateral that solves customer pain points.
Content marketing is growing and fast. In fact, it shows no sign of stopping, so it's essential that you leverage it.
In this blog, we explore the world of content marketing and how it can be used to generate leads, win you potential customers, and increase sales.
How can content marketing benefit your business?
61% of marketers say that generating leads and traffic is their biggest challenge.
However, statistics in 2020 revealed that content is the way forward to generate leads and improve sales. So, are you taking full advantage?
These days, content marketing is marketing. Companies are investing in content marketing strategy more than ever before, desperate to create high-quality content that can solve their customer's problems and pain points, generate leads and improve sales.
Remember the saying 'content is king?' In this case, it's definitely true.
How Content Marketing Drives Sales: It Increases Web Traffic
One of the main benefits of content marketing is to attract site traffic and improve SEO performance, therefore creating awareness about your brand or business. Consumers are using the Internet more than ever before to search for products and services, so you need to position yourself at the top of their search to grab their attention and win their business. Content marketing drives sales here.
For example, if you have a cupcake business and you have high-value content that includes the keyword, 'cupcake bakery near me,' you've hit the bull's eye. The whole idea is to create content and optimise your website for the most searched keywords. By including these keywords, your chances of ranking higher in the search engines will increase. This is how content marketing drives sales through increased traffic. As more people come to your site, your chances of obtaining a lead increase.
Want more content tips? Contact us to talk to one of our specialists today.
Our top tips for boosting your web traffic and SEO score include:
Creating and publishing relevant content
Internally linking relevant posts
Including high ranking keywords
Ensuring you use alt tags
Updating your website content regularly
How Content Marketing Drives Sales: It Spreads Brand Awareness
Content is a great way to raise awareness of your brand because it's the easiest way to show personality and share opinions and positioning on issues — two major components that personify and humanise your brand (we'll look into this further later…).
It doesn't have to be in written form, either. You can also create videos, infographics, podcasts, and more. It's all about how you get your information to your customers and make them understand your solutions.
Now, it's important to remember that content isn't a quick fix. It's not like you will create a piece of content and straight away feel the effects. That could happen – but most of the time you need to layer your content over a longer period of time. This will make sure that you cover various channels, and make sure you have a solid awareness of your brand or product before you ask customers or prospects to do anything else.
Make sure you aren't limiting yourself too. What you create doesn't have to live on just your website, either. Guest posting provides opportunities to get in front of new audiences and diversify your marketing.
How Content Marketing Drives Sales: It Establishes Authority
In a competitive market, content that demonstrates your brand's thought leadership helps buyers decide who they want to work with or buy from.
I recently started upcycling some old furniture in my spare room. Keen to give it a new lease of life, I decided a new paint job would do the trick. So I began researching different paint brands and narrowing it down to the brand and product that best aligned with my goals and needs.
As a novice decorator, I was searching for all the help I could get. So, when I found a brand that boasted tonnes of 'how to' tutorials, tips and techniques blog posts and a high-quality product, I was sold.
I chose to give this particular business my money because I felt I could trust them and I appreciated the level of expertise they had shown through their valuable content.
The same goes for you and your audience. Creating content that turns potential customers into actual customers is a great way of winning sales and establishing your authority in your industry.
Our top tips for establishing your authority using content marketing include:
Creating and publishing valuable content
Providing different content forms, such as long-form content, email marketing, case studies, etc.
Writing for your target audience
Being authentic in your content marketing efforts
How Can You Use Content Marketing to Drive Sales?
1 – Utilise the AIDA Model
One way to boost your content marketing is to utilise the AIDA model in your content marketing strategy.
The AIDA model is a marketing process used to nurture leads or sales through to conversion.
AIDA stands for Attention, Interest, Desire, and Action. It focuses on one thing – getting your business sales whilst communicating your proposition clearly.
When we look at the AIDA sales funnel and content marketing, we can create content that drives sales using the model's various stages. For example, if we look specifically at Awareness and Interest, it's about focussing on informational content. At this stage, prospects are unsure as to what product or solution is for them. So, we need to provide informational types of content that give them the knowledge and confidence to move to the funnel's next phase. However, a prospect who is almost ready to purchase will be interested in a different type of content, so different types of content should be created for them.
'Content hubs' or 'content clusters' are helpful ways of structuring content to hit different people at different stages of the funnel. By creating a clear separation in content hub 'topics,' you can drive traffic from certain SEO keywords. This will improve a consumer's overall content experience, which is just as important as user experience in your inbound marketing.
Reviews, case studies, and testimonials are other useful AIDA-approved tools for improving conversion likelihood, especially in later sales funnel stages.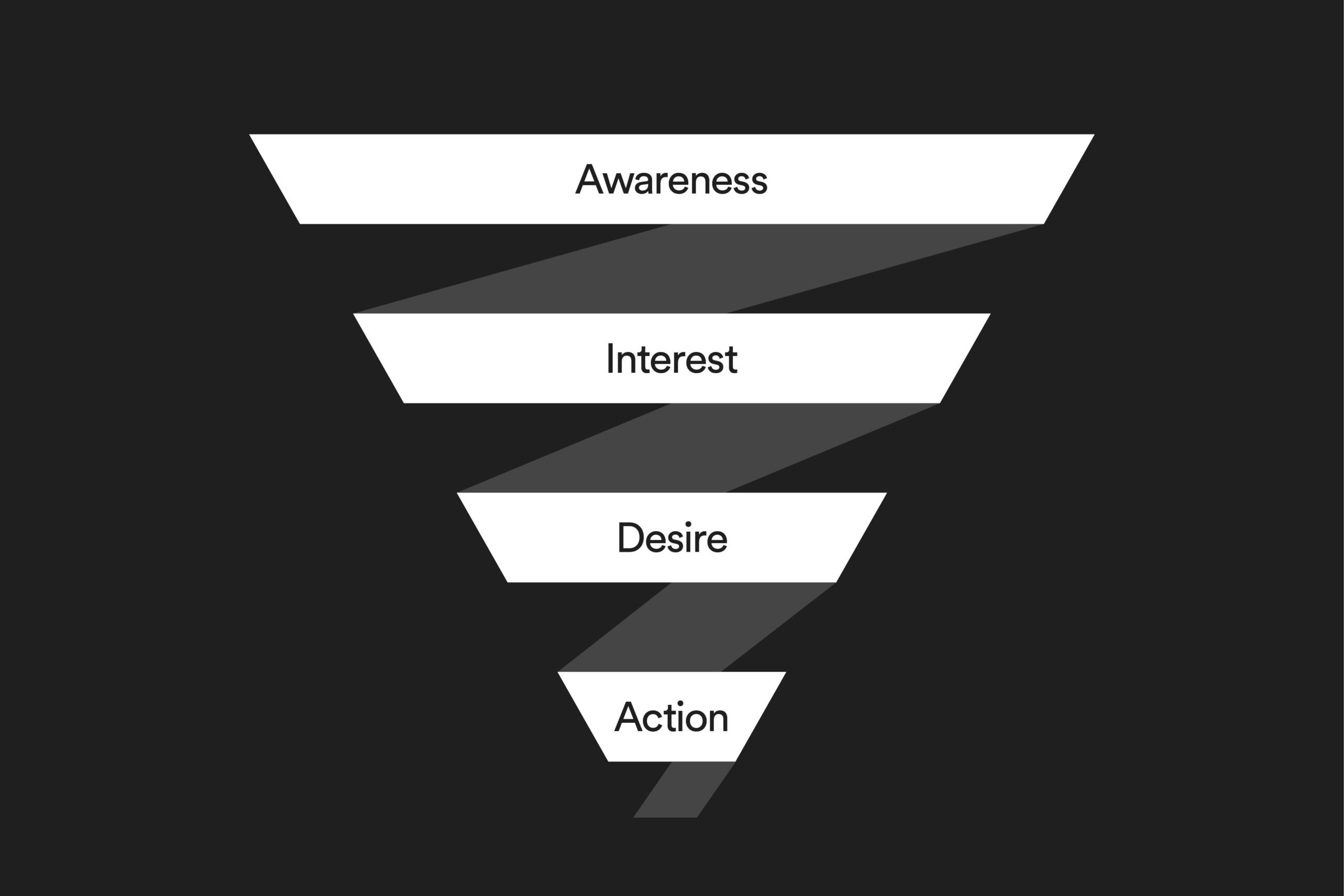 2 – Under the Influence – Use Content Marketing to be Influential
Ultimately, with any aspect of implementing a great content marketing strategy, the goal is to influence people.
Whether you want to coax them to your side, convince them to buy your products, or convert them into loyal followers, your influential power matters.
No matter what industry you're in, customers are more likely to do business with influential thought leaders and established companies. So you need to build your authority as a business, and content marketing drives this.
There are several ways to do it. One way is through guest blogging for other sites, garnering backlinks that help build your reputation.
Additionally, you must also consider writing useful pieces designed specifically for your target audience and have a goal in mind when writing. By doing so, you provide value to the relationship you have with your readers. Content that's moving, inspiring, entertaining, or educational is going to be valuable to your audience.
If your content doesn't accomplish any of the above, re-evaluate your goals, and set some if you haven't yet.
3 – Use a Wide Variety of Content Types in your Content Strategy
Want to be one of the greatest content marketers? Amplify your strategy by implementing some of these content types into your marketing campaign for optimum lead generation.
Blogs
Blog posts are the most conventional content marketing assets because they're a valuable source of site traffic that can drive leads. For example, if someone has a question, they often type it into a search engine to find their answer, which is often found within a blog post. Not only will they get the answer to their question, but they'll also learn about the brand that supplied the answer. You want to be that brand.
eBooks
If using eBooks in your marketing strategies, they need to contain valuable content that appeals to those already familiar with your brand, product, or service. They're normally 'gated' pieces of content, which means an email address or another form of contact information must be provided in order to download the eBook. They're a great way of repurposing copy from your website or blog and can provide deep insights into a particular topic.
Email Marketing
Set up an email newsletter to highlight your top pieces of content and encourage email recipients to read the full version on your site. Design and optimise your email to grab your reader's attention and make them want to read more with catchy subject lines that are creative and engaging.
Plus, use marketing automation tools to target your email marketing based on what customers have liked or clicked on your website previously. For example, if they've read one of your blogs before, you can use clever CMS software to send them other pieces they may like and increase your brand awareness.
Case Studies
A case study is a great piece of content for helping businesses to appeal to multiple personas and drive more sales.
A case study that demonstrates how you've solved problems and pain points for customers in the past is the perfect vehicle for demonstrating how your solution performs in the real world, tempting future custom.
You can view some great examples of case studies here. 
White Papers and Long-Form Content
Content creation is an investment, but it can be incredibly worthwhile. This is especially true in the case of white papers and long-form content. White papers provide facts and important details about the solutions/products you provide.
Content like this is in-depth and well researched, providing valuable information that may not fit well in a blog or email. By adding white papers into your content marketing strategy, you can establish your authority on a subject and build trust with your customers.
White papers are also great tools for content seeding. Content seeding is a digital PR strategy that involves 'planting' your copy on other people's platforms to expand your audience reach and establish your brand as a thought leader. Bloggers and journalists are great people to approach if starting out.
Infographics
Infographics are a piece of content designed to improve conversion rates quickly.
These days, most customers are time-poor. You need to capture their attention quickly if you want to generate their interest. Infographics can capture their attention for a few minutes, deliver insightful data and establish authority quickly. Making them a key asset when creating content to generate leads.
Social Media Platforms
Social media can be a platform for your content,, and it can be content in its own right.
There are over 3.6 billion people using social media platforms worldwide, making social one of the most popular and effective ways to promote your content, spread your message, and drive more sales.
You can leverage social media by repurposing existing content, publishing it on your channels, and linking back to your site, boosting website traffic. It can also be used to share user-generated content from your customers and followers, showing other prospects that you can be trusted.
4 – Be Human
Following on from my point earlier, if you really want to influence your readers and drive sales using content marketing, you need to find ways to connect with them that go further than turning out blogs. The best way to do that is to be human.
More specifically, be a friendly human on social media and across the web. For example:
Engage and interact with the people you follow on social media – share social media posts, comment on posts, and add to discussions.
Participate in Twitter chats and live streams.
Reply to blog comments respectfully, thoughtfully, and with depth.
Building your reputation and driving sales using content marketing is about more than the content you publish or the online face you reveal on your website. It's about every single interaction you have, no matter how seemingly small.
Struggling with Your Content Marketing?
Sick of your marketing strategies not working? Why not contact us?
Content marketing is vital to building relationships with consumers and driving sales for your business.
We're a content marketing agency that works with you to produce creative content in line with your sales and marketing objectives. Purpose Media's content marketing campaigns work across all marketing funnel stages, from brand awareness down to conversion.
Mixing creativity with contextual understanding, we craft high-quality, compelling content in line with your marketing and content strategy, helping to drive traffic and results.
The perfect content marketing agency will listen to your goals and objectives and create a bespoke content marketing strategy with your audience at the core.
Everything you create for your brand should be built on delivering value across all your marketing. We do this by making sure our clients content is researched, purposeful and competitive. That's how we drive results to impact your business objectives. By working with us, you can increase your organic visibility on your website and reduce the effort and costs – so you can focus on your day job.
Ready to get started? Give us a buzz.