Lead generation
As your social networks grow, it's natural for more people to find your brand, ultimately generating more leads for your sales team to explore. But growing your audience isn't the only way to boost leads from social media, especially in a B2B social media strategy.
Your followers have already expressed interest in your brand by simply clicking that follow, so it's time to nurture that interest into a purchase. To do this, you need to craft social posts that are designed to resonate with and add value to your audience. With every relatable and helpful post they see, your brand is seen more positively, improving brand loyalty and turning your followers into long term customers, one post at a time.
This isn't limited to an organic social media presence. Paid social media marketing can also be used to generate leads from potential customers that are already interested in topics relating to your brand, but may not have heard of you yet.
Encourage repeat purchases
Social media isn't just useful for finding new customers, it also helps to engage existing customers, keeping them interested in your products or services to nurture the relationship and encourage repeat purchases.
This is especially true for eCommerce brands on social media. Creating a community for your customers offers a great opportunity to inspire your audience and recommend products to purchase time and time again.
Get eyes on your content
When you've written a great piece of content, it can take time for your article to pick up on search engines. But luckily, that's not the only way to promote content.
Posting content to social media is a quick and easy way to get it out to the world. This also helps to position your brand as a thought leader on social media, sharing your own unique insights and opinions.
However, it's important to choose the right social media platform to do this. Most social media platforms like Facebook, LinkedIn and Twitter are good channels to share blog content, as a links can be included on the post. But this cannot be said for Instagram, where it's more difficult to share external links.
Customer relationship management
Social media is a two-way street. One way is how your account talks to your target audience, but the other way is often forgotten; how they talk to your brand.
Social media opens the doors for customers to talk to brands, sharing opinions and thoughts on key topics. This gives you a direct insight into your customers and allows you to create a positive relationship with them. So it's important to make them feel valued by replying to comments and addressing any grievances.
This two-way street also allows you to comment on negative press and social justice movements quickly and control the narrative so your customers can hear your point of view directly from the source.
Take Lollapalooza Festival for example, when one of their performers faced backlash from the press, they quickly addressed the situation on their Instagram to ensure followers knew where they stood on the issue:
View this post on Instagram
Cost-effective channel
When it comes to marketing, it can often feel like a big upfront investment before the results come rolling in. But the beauty of organic social media marketing is: it's free!
Absolutely anyone can set up an account on any social media platform free of charge. So as long as you're willing to put in the time and effort to create high-quality content, social media can lead to increased traffic and more conversions without capital investment.
And while paid ads on social do cost the business initially, savvy marketers can optimise their ads through targeting and A/B testing to improve the ROI, making it a cost-effective activity despite initial investment.
Get valuable insights
The final and maybe the most valuable benefit of using social media for your business is the insight it gives you into your target audience.
Your followers on social media can act as a great sample group of your customers and potential customers. These are people actively interested in your brand, so they represent your wider target audience.
You can use unique insights from social media to accurately profile your audience in many different ways, such as age, gender and location. Using this information can underpin and strengthen the division of key personas for your marketing strategy, allowing you to make smarter business decisions in the long run.
Plus, social listening tools are getting smarter, allowing you to track what is being said about your brand, product or service or industry on social media platforms. Knowing how your target audience feels about a certain topic will help to guide your message and ensure what you're saying is in line with the general consensus, boosting both your digital marketing strategy and brand reputation.
What are the disadvantages of social media for businesses?
While there are lots of benefits of social media for business, we won't lie to you and pretend it's all rosy all of the time. There are some challenges to face when developing an online presence on social media that need to be considered in the overall strategy.
Negative comments
Up first is backlash. Whether you receive negative feedback from a disgruntled follower or your brand is going through a full-blown PR crisis, social media is usually where it all comes to a head.
If you're lucky, you will only ever have to deal with the occasional negative comment. If this does happen, you should still reply to the comment politely, offering help where possible and apologising if necessary. The key here is to always stick to your brand values and to take the issue out of the public eye. If there isn't a quick fix to their issue, try directing them to your DMs or the customer service email where you can take a closer look without filling up the commend section of your post.
B2B lead generation
Another issue that crops up on social media is how to get leads for B2B businesses. We'll admit it, generating B2B leads on social media is harder, but it's not impossible. The reason it's harder is that B2B products and services are often higher value or a greater commitment, so it will take more than a social media post to get them over the line.
But that doesn't mean we can't use social media to nurture potential leads that are higher up the funnel to make the conversion easier when they land on your website. And if done right, your social media networks can be used to encourage brand loyalty and advocacy further down the funnel too.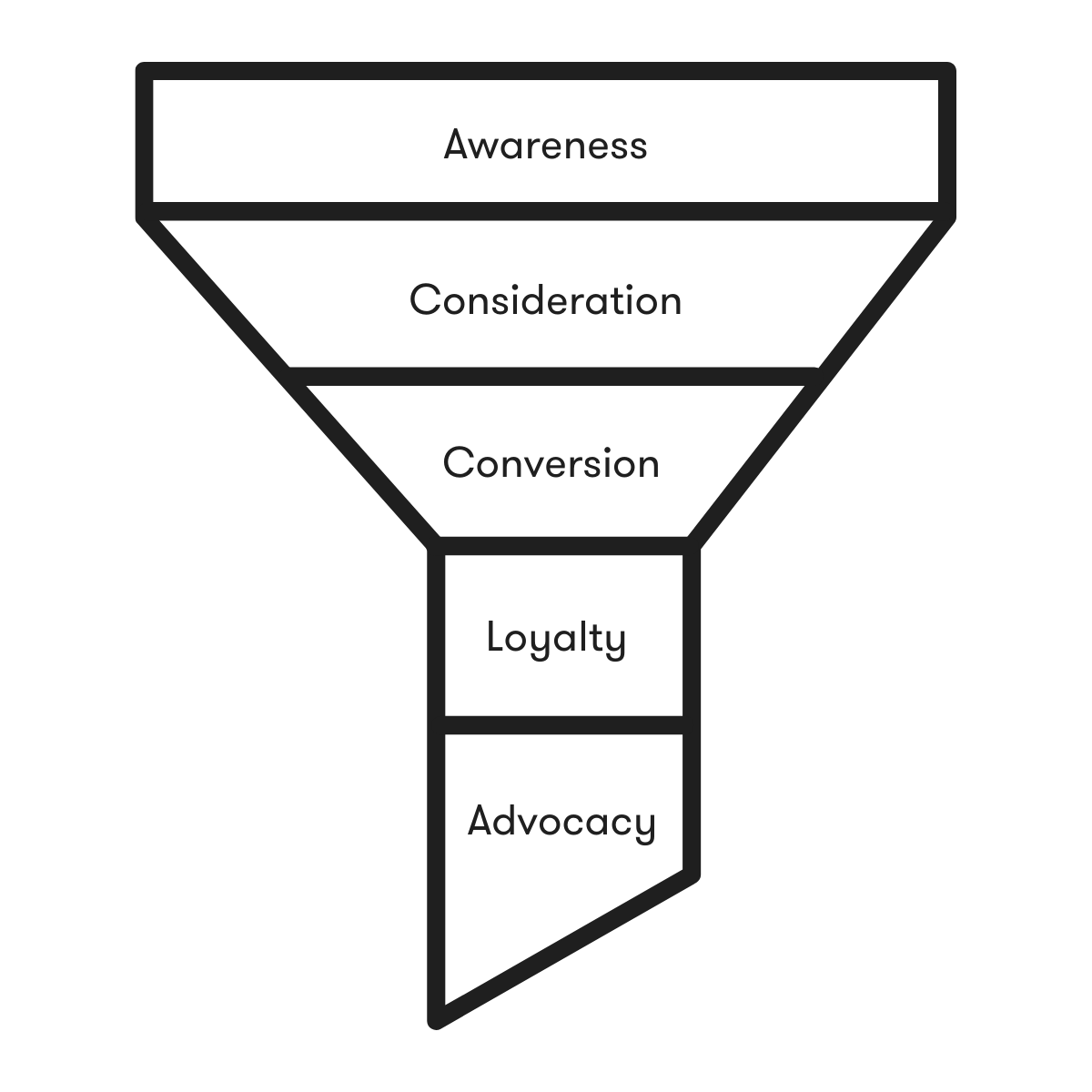 It's not for the impatient
Social media is all about instant gratification, but many businesses forget that getting good results from your social marketing efforts takes time.
Sure, there are ways to quickly grow your audience, but will this quick solution provide real, measurable results for your business? Or are you just falling into the trap of vanity metrics?
It's much better to take a strategic approach to social media for business, taking the time to curate good quality content that will add value for your followers. The more valuable content you produce, the more people will interact with your posts and share them with their own networks – helping to build a quality following organically. This will do way more to build brand recognition and generate website traffic than mindlessly growing your channel with uninterested parties.
Social media platforms to consider in your social media strategy
If we've managed to convince you that social is the next step to take in your digital marketing strategy, here are some of the most popular social media channels right now and how you can use them to generate audience engagement:
Facebook
Facebook is the largest social media platform in terms of the number of monthly active users, with users of all ages regularly logging into the channel. Whether you run a social media profile for a multinational corporation or want to get your small business off the ground, Facebook's wide range of users makes it a great place to find your niche.
Facebook's main aim is to create communities on the platform, so you should always keep this in mind when creating social media posts. Create relatable content that sparks discussion in the comment section and encourages followers to share it with their community.
A great feature that businesses can make use of on Facebook is Facebook Groups. This is a feature that's relatively unique to Facebook that brings people from all around the world together to discuss and share opinions on a common interest. If you can post in a Group related to your business, or even start your own Group, you will have access to lots of potential customers who may not even know you exist yet.
Twitter
Twitter has nearly 315 million users worldwide, and this is predicted to grow to 340 million by 2024. But Twitter isn't like other channels, it moves fast and shorter, snappier content performs much better than long-form content.
This has made Twitter the go-to social media channel for three things: current events, memes and customer service. Let's break them down:
Current events
Everyone has an opinion on what's going on in the world and Twitter has established itself as the place to voice these opinions. With the wide use of hashtags and an advanced trending page, users can jump on current events and share their thoughts in the moment.
So what does this mean for your business account? It means you should stay on top of the current trends, and keep an eye out for topics you can comment on to get brand exposure on the trending feeds.
Memes
Twitter is the holy grail of memes, even the memes that make it to your Facebook or Instagram feed are usually from Twitter in the first place. So don't be afraid to be a little funny and jump on trending memes, you might even create some viral content that way.
Even the most serious accounts occasionally break the fourth wall and crack a joke every now and then. Take the beans on Weetabix Tweet earlier this year, even the US Embassy got involved in the fallout:
But remember, it's easy to take it too far, so make sure you always stay true to your brand and stay away from controversial topics that could get you in trouble.
Customer service
Finally, Twitter is a good channel for customer service. Many large B2C businesses even have dedicated customer service accounts on Twitter to help them manage demand. This is because Twitter is commonly used for customer interaction, so the customers feel they can get the brand's attention on Twitter.
Including customer service as part of your Twitter strategy will allow your brand to monitor what is being said about you online and respond to comments as and when it's needed for better customer service.
Instagram
Instagram is the home of beautiful pictures and industry influencers, and if you've got an aesthetic you want to show off, Instagram is the place to do it. Instagram is all about looking good, so make sure all images and videos posted on this channel are high quality and well-edited to meet the high standards of other content creators.
Instagram is particularly powerful if your key target audience is younger women, as 68% of users are females and 59% of users are aged 18-29. If you tailor your content to suit the needs of this audience, you're sure to see success on this platform.
Plus, Instagram is a great source of user-generated content. With so many influencers trying to make an impact on the channel, there's lots of high-quality content that takes no effort for your social team – just be sure to get permission and credit the creator when you repost.
YouTube
YouTube is the second most popular website on the entire internet, losing out only to Google. This means there's a huge opportunity to get a slice of all that website traffic.
However, YouTube isn't like most social media platforms, it has elements of both a social channel and a search engine which can make it difficult to navigate as a business. It has the interaction element of a social media channel, with a news feed, subscribers, likes and comments. But the way people find your content is closer to Google's algorithm than any social media algorithm.
The key to success on YouTube is to create content based on what people are searching for and optimise the video content and description in line with this, similar to an SEO strategy. But once the video is live, treat it like social media, replying to comments and interacting with other accounts to boost your brand's exposure.
TikTok
2020 saw TikTok quickly rise in popularity in the online world, with the channel now boasting roughly one billion active monthly users from all over the world. And if you're trying to target Gen Z, TikTok is the channel to do it with 26% of users in the UK aged between 18 and 24 years old.
With lots of trends to jump on and a super-specific algorithm, it's easy to find your target audience simply by creating relatable content.
But don't be fooled by how easy it is to go viral on TikTok. Creating video content at the rate required to perform well on the channel is a big task, requiring lots of time, effort and creativity.